I have mixed feelings about this track set. Aftermarket tracks for the numerous HVSS Sherman kits now on the market are few and far between, and we need all the choices we can get, so this set of replacement tracks from OKB Grigorov is a welcome addition. However, I am still not convinced that etche metal works very well for all track styles. Small tracks, such as on small panzers or the T-26 series, yes, they look great. But for larger and heavier tracks such as these, I am not so sure. In OKB's favor, the sheet of metal used for this set was much thicker than your normal sheet of etched brass, so we'll see how flat the surface detail may or may not appear once mounted and painted.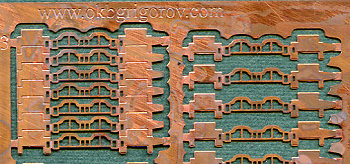 The detail is certainly nice, and the scale is very good. However, great care must be taken when folding these to shape. As you can see in the pieces I folded below, it is very easy to ever-so-slightly twist the tracks when folding them, so as to distort the surface detail a small bit.

It is likely that this small distortion will not be visible once the tracks are mounted, painted and weathered. However, as you can see, the holes along the track edges for the sprocket guide teeth are not in alignment along the length of the track, which may cause problems mounting the tracks, if this happens on the parts that are meant to attach to the sprocket. So again, take great care when folding these parts.
---
Back to Sherman Accessories List