Modell Trans
M4A1 Early Suspension
Kit #72077
Article by Doug Chaltry; last updated 29 May 2008.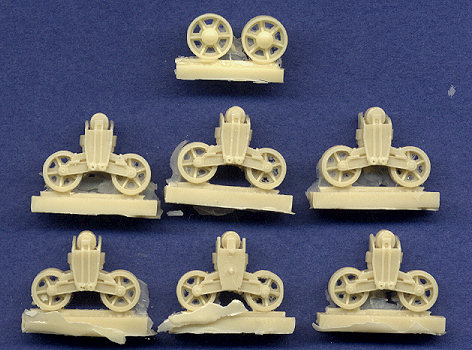 Do you want to build an early Sherman II or Sherman III from North Africa? Then this set is for you. Actually, these early style M3 bogies could be seen on many different Sherman variants in Italy and Europe as well, sometimes mixed in with the heavy duty M4 bogies.
To create this set, ModellTrans used the suspension parts from the Mirage M3 Medium Tank. They come completely assembled and with a pair of open-spoke idler wheels as well. Note that the rear feaces of the bogies have been altered from the original parts to allow them to be attached to the Dragon hulls without surgery. Although each bogie is the same as the others, with the wheel spoke alignment the same, at least the two wheels on each bogie are aligned differently so it doesn't look quite as silly as the Dragon suspension parts.
The resin casting is very good, with no bubbles or flaws in this sample. This is one of the most useful conversion sets I have seen produced in a long time. It will pair perfectly with ModellTrans' M4A1 direct-vision hull.
---
Back to Sherman Accessories List