Finally another M4 early Sherman. We are still lacking the ultimate kit of this early version of the Sherman. The HäT wargaming kit is simplistic, the ExtraTech kit is pretty good, though with a few weak details, and the Trumpeter kit is so mis-shaped it's unbuildable. Dragon has released an early M4, but its engine deck is designed so that it will only represent a tank mounting the deep wading stacks. I was hopeful this UM kit would fill the void, but I think it's now apparent that UM will be doing nothing to improve their rather poor line of Sherman kits.

Here are the new sprues included in this kit: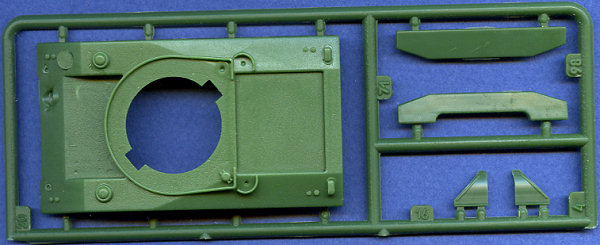 The hull is fairly nice, and I think will prove to be an excellent basis for scratchbuilding your own Sherman conversions. It comes with two overhanging rear hull plates, for both early and late hulls (the early style is to be used with this kit). There are two front hull inserts providing different styles of armored hoods. Not sure if both of these styles were seen on M4s, or only the squared one. Regardless, it's nice to have a spare. A late version nose piece is included, which I think may be correct for at least Connon Ball, though it was uncommon for the sharp-nose piece to be seen on early-hull M4s. Regardless, an extra round nose, or 3-piece nose, would have been appreciated to give us more building options.
These are sprues that we've seen before:
As described elsewhere, the wheels are fairly poor. The stamped wheels have very flat detail, especially the idler wheels, and for this kit, the open spoke wheels, which were quite poor to begin with, have been removed from the sprue. Was this a lame attempt to follow in Dragon's footsteps to remove options for the modeler? Or was UM simply embarassed by the wheels, and removed them since they were otherwise useless? Anyway, no great loss. The tracks, though molded in hard plastic, are too narrow and have poorly molded chevrons, looking like a cross between the steel and rubber chevron versions.
The turret has several spare parts from the Firefly kit, in addition to those used here. The main turret casting is very poorly detailed, though with an open commander's hatch. The rotor shields, two versions of which are included, are fairly nice, though the side armor protecting the gun barrel is a little thick, and could be sanded a bit thinner. The barrel itself if molded quite straight, though with too much taper.
As always, brass parts are included. Note that there are no brush guards included for the crew periscopes. Indeed, most early Shermans lacked these parts, though it would have been nice to have them included for options.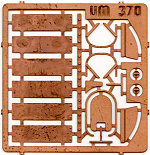 Although several markings schemes are included on this decal sheet, only two of them are appropriate for an M4, those being called out in the instructions:
5th Army, 756th Tank Battalion, Monte Cassino, Italy, February 1944
70th Tank Battalion, Utah Beach, D-Day, June 1944, Normandy
There are several errors in these markings: for the 756th TB tank, they have the number "14" for the left side of the turret (correct), but the number "41" on the right side (incorrect). Huh? Also, for Cannon Ball, the number 2 should be red, outlined in white, not just the white outline as given here. Thanks to Luis Rodríguez Duarte for informing me also that neither of these tanks should be a direct-vision Sherman, as this kit would have you believe. But a spare front hull insert without the DV slots is included (part #108), so you should build the kit with that part instead.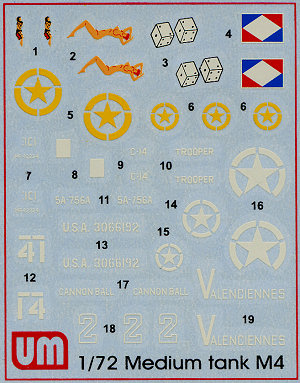 There are two other marking schemes provided, one for a French M4A4 (Valenciennes), and one for an M4 Composite with the 175th Tank Battalion in the Philippines (the rolling dice and nude).
Really makes me wonder what kind of effort UM puts into their research for these models.