Another Firefly VC has entered the market, this time from UM, which was not unexpected, as the majority of the kit parts had already been seen in earlier Sherman releases from this company, due to their practice of making these Sherman kits modular. It's a mediocre kit, nowhere near as nice as the Dragon Sherman VC or the MR Models resin kit.

Here are the new sprues included in this kit:

Much of the first sprue we've seen before, though the parts for the lengthened M4A4 hull are new. The three piece nose is actually made from three pieces. Well, five really, including the bolted flange parts. It's pretty cool the way they molded these, in order to get the bolt detail in the proper place. We'll see if it looks any better when built than the Dragon/Extratech method of assembling the nose parts. Two different hull fronts are included offering some options for the modeler.

These are sprues are ones that we've seen before:

As described elsewhere, the wheels are fairly poor. The stamped wheels are acceptable, but the cast, open spoke wheels have too many spokes. The tracks, though molded in hard plastic, are too narrow. The turret has several spare parts from the 75mm kits. The unique loader's hatch for the Firefly is assembled from plastic and etched parts, and can be modeled open if one carves a hole in the turret roof. The radio and hull storage boxes are poor, lacking much detail on each. The main turret casting is also very poorly detailed, though with an open commander's hatch.

As always, brass parts are included. Note that there are no brush guards included for the crew periscopes. Indeed, these often were not present on Fireflies, though they often were as well, so it would have been nice to have them included.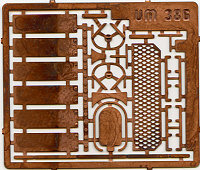 Markings are included for three vehicles:
"Belvedere" - 29th Armoured Brigade, 11th Armoured Division, France, July 1944
"Allakeeper" (sic) - 4th County of London Yeomanry, 22nd Armoured Brigade, 7th Armoured Division, France, June 1944
144th Regiment of the Royal Armoured Corp, 33rd Armoured Brigade, France, July 1944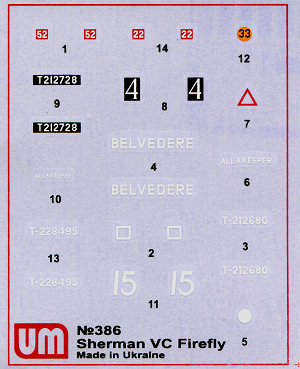 The decals are nicely printed, with a good selection of markings, but "Allakeeper" should read "Allakeefer".