Modell Trans
M4A1 Large Hatch
Kit #72330
Article by Doug Chaltry; last updated 29 May 2008.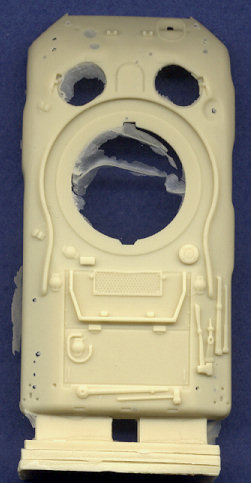 I believe that this version of the Sherman hull is what the old ESCI (now Italeri) M4A1 kit was supposed to represent. There is still confusion as to whether or not any of the M4A1 wet-stowage, big-hatch hulls mounted the 75mm M4 turret. I am one who believes it never existed and am still awaiting photographic evidence that it did. All of the photographs I have seen are of dry-stowage hulls, which can be identified by the applique armor plates cast into the hull sides to protect the sponson ammunition bins. That is exactly what this conversion hull from ModellTrans represents.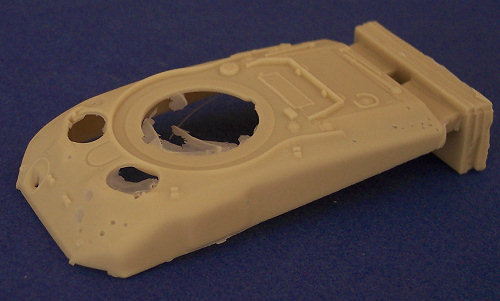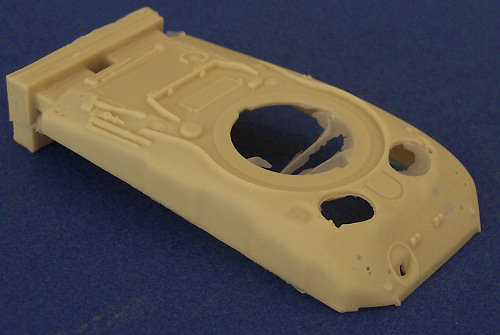 This set is composed of the single item pictured above. ModellTrans took the big-hatch hull from Dragon's M4A1 (76)W kit and added the cast-in applique armor plates to the hull sides. It looks perfect. As far as I can tell, that was the only change made to this piece.
The resin casting is very good, with no air bubbles on the surface of the resin. There are a few bubbles inside the resin, as can be seen on the front armor plate in the scan above, but as long as one is careful to not break through the surface in these areas, they shouldn't pose a problem.
My sincere gratitude to Tracks & Troops for providing the review sample.
---