Iron Division
M4 75mm Mid
Low-Bustle Turret
Kit #74006
Article by Doug Chaltry; last updated 28 May 2008.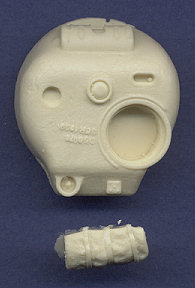 As with the previous, early production turret, this mid-production turret has been slightly modified from the turret included with several of Dragon's 75mm-armed Shermans. It is almost identical to the kit turrets, but with some minor changes. There is a foundry casting mark on the turret roof; the pistol port has been removed; and most importantly, the right cheek armor has been thickened to represent the bulged armor in that portion of the turret wall. You can barely make out the step in the armor at the bottom of the bulge in the scan below. Also included with this turret is a rolled up tarp or tent for attachment to the rear of the turret.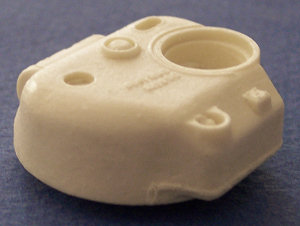 The quality of the resin casting is first-rate. There are no flaws or blemishes in this sample.
My sincere gratitude to Tracks & Troops for providing the review sample.
---