Iron Division
M4 Mid-Production Hull
Kit #75001
Article by Doug Chaltry; last updated 28 May 2008.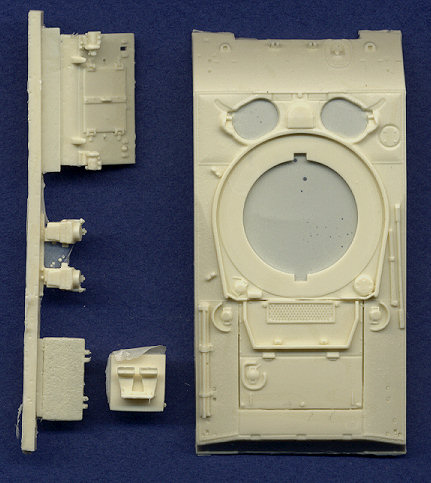 This is my first item to review for this new resin company, and it's pretty decent, though not perfect. Since we currently have no VVSS version of the M4 (105) available to us in plastic, Iron Division decided to give us an option in resin. Using the Dragon M4A3 hull as a basis for their conversion, they grafted in the engine deck from the M4A1 giving us an M4. Since the original Dragon parts were of such high quality, so too is this conversion hull. The surface detail is outstanding, and some of the pioneer tools have even been removed. In addition to the replacement hull, the appropriate rear engine access plate and exhaust parts have also been included. The quality of the resin casting is also first-rate. There are no flaws or blemishes in this sample, and the hull has only the slightest of twist to it that can be easily fixed by heating and bending it.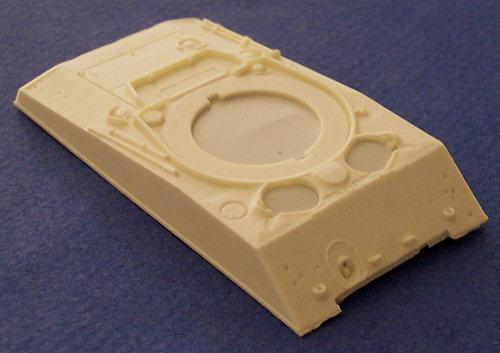 There is a flaw, however, that being the rear armor plate. This hull is still basically an M4A3 hull, but with an M4 engine deck. The angle of the rear armor plate was near vertical for the M4, a change that has not been reflected here. I understand that Iron Division regularly makes adjustments and improvements to their products, so this is a feature that I am sure will soon be corrected.
This hull is meant as a conversion for the Dragon M4A3 (105), and since it used that kit's hull as a starting point, I assume that the fit will be perfect for that kit. Surgery may be required if one wants to use this set to convert a Sherman from any other manufacturer since it appears that no two manufacturers' parts are easily interchangeable.
My sincere gratitude to Tracks & Troops for providing the review sample.
---