Iron Division
M4A1 Mid-Production Hull
Kit #74003
Article by Doug Chaltry; last updated 28 May 2008.
Next up from Iron Division is the mid-production version of the M4A1 hull. It is basically the hull from Dragon's M4A1 "Normandy" kit with a couple of minor detail changes. The foundry mark on the front glacis has been removed and a splash guard added between the two crew hatches. Clamps have been added for the tow cable, as have a pair of lift handles on the rear engine deck. And that's pretty much the only changes I can see on this hull piece.
What sets this conversion set apart from the Dragon kit is the inclusion of the bolted 3-piece nose, which gives the modeler more options for building earlier M4A1s than that depicted in the Dragon kit with its rounded nose. I particularly like the addition of the "comb device" to the top of the nose, though some teeth will need to be cut into the "comb".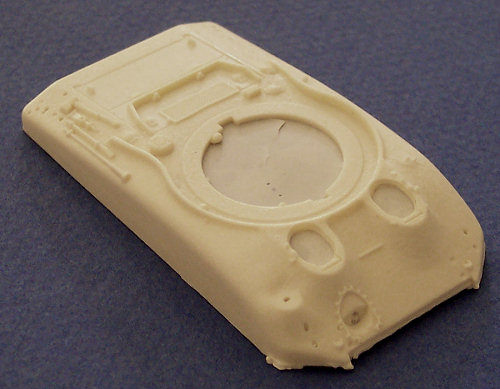 I have not yet assembled this kit, so I can't comment on the fit of the parts. The quality of the resin casting is first-rate. There are no flaws or blemishes in this sample, and the hull has no discernible warp to it at all.
My sincere gratitude to Tracks & Troops for providing the review sample.
---