Al.By
M4A3 (76)W CombiKit
Kit #CK04
Article by Doug Chaltry; last updated 31 October 2007.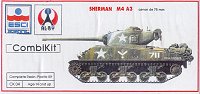 Like all Al.By CombiKits, this kit contains a complete ESCI M4A1 Sherman kit, plus resin conversion parts to make this specific version: the M4A3 (76)W. The plastic parts can be seen in the preview for the ESCI M4A1 kit.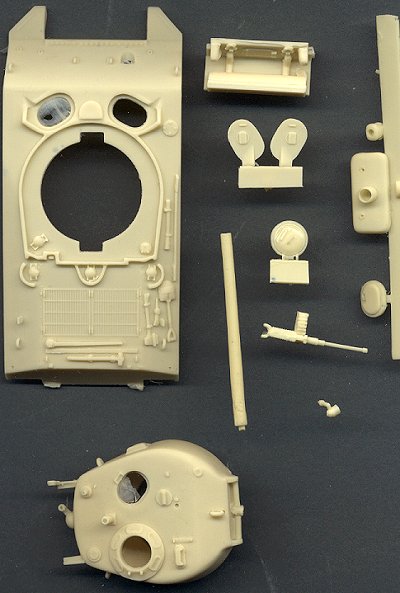 The resin parts shown above are the additional parts to this kit. The hull is an improved version of the ESCI M4A3 hull, with new ventilator covers, new fluid filler covers, new pioneer tools, etc. It is a superb piece, and is included with all of Al.By's Sherman CombiKits. Also included are the two hull hatches, which are copies from the ESCI M4A3 kit, the rear hull piece, and the new turret and gun. All of the hatches are open, there is a .50cal AA machinegun, and an optional muzzle brake.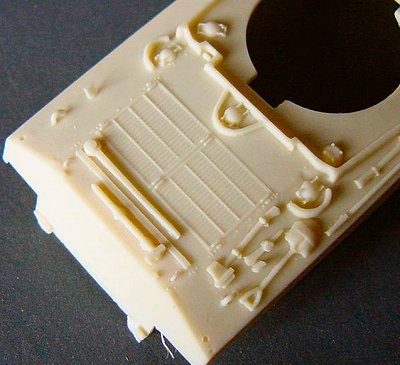 While the hull is certainly an awesome piece, I feel that the turret is not up to current standards. Although I used to be very excited about it, back when there were no other decent choices for 76mm turrets, I now feel that it compares very poorly to newer T23 turrets. This Al.By turret was based on the old Hasegawa turret, and although it was modified extensively, and greatly improved over that very poor plastic piece, it still retains some of the size and shape problems of the Hasegawa turret. If this turret is the modeler's only choice at building a 76mm-armed Sherman, than it certainly will be adequate, but if you are in the market for purchasing a new kit, go with one of the newer plastic kits.
---